Our Products

 

Investments* /

Retirement Funding

Estate Planning

Employee Benefit Products

Insurance Products
Weitz Financial Group currently insures more than 1,000 people throughout the country. Since its founding in 1989, Weitz Financial Group has offered its clients investment and insurance products with the financial strength that helps you achieve financial security and a reputation for reliability at competitive premiums.

Find out for yourself what makes Weitz Financial Group stand above the rest - please read all about the insurance products we offer!
 
 
---
Life Insurance - Many people think that life insurance is only for people with families. While it is true that life insurance can help provide for the needs of dependents, life insurance also can be an important part of a well-thought-out estate, business succession or charitable giving plan. And permanent life insurance offers many living benefits as well, such as tax-deferred cash value accumulation. For all of these reasons, life insurance can be important for someone starting out – or for someone who's starting over. 

You can use the articles on this page to learn more about the various types of life insurance that are available.
Whole Life - Whole Life insurance is also known as permanent insurance. You receive coverage for your entire life, as long as premiums (which are a set amount per period) are paid. Whole life policies accumulate cash value tax-deferred.
Term Life - Term Life policies provide coverage for a specific amount of time – such as 5 years, 10 years or 20 years. Term premiums are often less expensive than whole life premiums, but once the term of the policy is complete, coverage terminates. There is no accumulation of cash value.
Universal Life - Like Whole Life, Universal Life is a permanent insurance policy, which means that it covers you for your entire life, as long as premiums are paid. Universal life, however, offers you flexibility that enables you to change your premiums and death benefit as your needs change.
Variable Universal Life# - Variable Universal Life combines the premium and death benefit flexibility of a Universal Life policy with investment opportunities. You can allocate your premium amongst a variety of professionally managed investment divisions plus a fixed account. Assets allocated to the investment divisions are subject to market risk and may lose value. Of course, with investment opportunities comes risk along with the potential for reward.
Survivorship Life - Survivorship life insurance – available as whole life, universal life or variable universal life# – covers two people and provides payment of the proceeds when the second insured individual dies. Survivorship life insurance is often used to help meet estate planning or business continuation goals.
# Offered by NYLIFE Securities LLC (member FINRA/SIPC).

 to top
---
 


Investments* / Retirement Funding
Our clients may click on this logo to link to the NYLIFE Securities Web site.





Retirement Funding - We offer comprehensive products and services to help you develop a sound, long-term investment strategy. You can choose mutual funds, self-directed, tax-deferred Individual Retirement Accounts (IRAs), and variable life insurance and annuity plans. We also offer products to fund plans for companies of all sizes, ranging from SIMPLE IRAs to full-service defined contribution and defined benefit plans. We offer access to over 8,000 mutual funds from over 250 families of funds.

Asset Management / Money Managers** - Through Eagle Strategies LLC., we offer access to top money managers which are usually only available to investors with multi-million dollar portfolios. Managed accounts are individual investment accounts offered by financial consultants who provide advisory services and are managed by independent money managers usually on an asset-based fee structure.

A managed account investment program combines several services in a customized solution to investing. These services include investment planning, policy developement, manager search and selection, portfolio management, performance measurement and trade execution. All of these valuable services are wrapped together into a comprehensive investment program. 

Annuities - An annuity is a unique financial vehicle designed to help you accumulate money for your retirement and/or turn a lump-sum of money into a guaranteed stream of income payments.

Deferred annuities offer the advantage of tax-deferral and can be used to accumulate money for retirement.

You can use the articles below to help you learn more about which annuity might be right for you.
Variable Deferred Annuities# - A Variable Deferred Annuity offers the advantage of tax deferral and can be used to accumulate money for retirement. The policy's accumulated value – and sometimes the amount of monthly annuity benefit payments – fluctuates with the performance of your investment account. There are fees, expenses and risks associated with the contract. Please be aware than assets allocated to the investment divisions are subject to market risks and will fluctuate in value.
Fixed Interest Deferred Annuities* - With a Fixed Interest Deferred Annuity, the interest rate on your policy is guaranteed never to fall below a certain amount. For many people, this provides a measure of security about their investment.
# Offered by NYLIFE Securities LLC (member FINRA/SIPC).

Income annuities are used to generate a stream of income payments that is guaranteed to last for as long as you need it to – even for the rest of your life.

Lifetime Income Annuities - An income annuity where income payments begin immediately - one period after the annuity is puchased. It is designed to provide you with predictable income monthly, quarterly, semi-annually or annually, no matter how long you live, and regardless of how the financial markets perform.
 #Offered by NYLIFE Securities LLC (member FINRA/SIPC).

 to top
---


Estate Planning


You have worked hard to build your estate. If you are like most people you want to leave your estate to your loved ones. With proper planning, we can help you do just that. How familiar are you with estate taxes?

We evaluate your current financial plan and take you through a process which will help crystalize your objectives, get you to take action and help you to protect the wealth you have accumulated. The appropriate solutions may minimize potential tax and inheritance problems and help ensure the availability of liquid assets to help pay the taxes and settlement costs your heirs will face.

There are many strategies available to help you plan your estate. We can help you determine which may be best for your individual circumstances. 

 to top
---
Click here for Provider Directories

Click here to fill out an Employee Census form to receive a Health Insurance Quote Health Insurance Options

Managed Care Products
HMO Plans





For companies seeking the greatest degree of cost control over health care benefits, an HMO plan can be the ideal choice. Under this plan, employees and their covered dependents select a personal physician, called a Primary Care Physician (PCP), from the network of participating providers located in their service area.

When using the services of their PCP and obtaining referrals through this physician to other participating providers, employees will usually receive the full range of HMO benefits.


Point-of-Service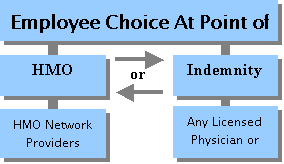 For companies that currently offer their employees traditional indemnity plan benefits but are looking to make the transition into managed care, a Point-of-Service (POS) Plan can provide the perfect vehicle.

When your employees enroll in the POS Plan, they will select a Primary Care Physician (PCP) from the HMO network, just as with the HMO stand-alone plan. They will generally receive enhanced benefits when using their PCP's services or those performed by other participating providers, referred by their PCP.

However, employees and their covered family members may also select health care providers without referral from their PCP any time care is required throughout the calendar year and receive the more traditional indemnity benefits. In exchange for this flexibility, employees pay a greater portion of their health care costs.


Preferred Provider Plans




Preferred Provider Organizations (PPO) plans allow employers to encourage their employees to seek care in a cost-effective managed care environment, while retaining the employees' freedom of provider choice. Employees can generally receive richer benefits by using the PPO network of Preferred Providers. Or they may choose any licensed doctor or hospital and receive reduced out-of-network benefits in return for greater freedom or provider choice.


Multi-Option Point-of-Enrollment Plans

The Multi-Option Point-of-Enrollment Plans offer you an option of two plan combinations to provide for your employees - either an HMO/PPO plan or an HMO/POS plan. A few carriers will allow you to offer all three types of plans in a Point of Enrollment Plan. This enables the employee to select either an HMO/POS/PPO plan at the time of enrollment.


HMO/PPO PLAN




If you select the HMO/POS option, your employees and their eligible dependents can choose HMO coverage or PPO (Preferred Provider Option) coverage during an annual open enrollment period. The HMO portion of the Point-of-Enrollment plan operates as previously described.

If employees choose the PPO side of the plan, they receive richer benefits when using the PPO network's Preferred Providers. Or, they may choose to go out-of-network and use any licensed doctor or hospital and receive traditional indemnity benefits. However, they will pay a greater portion of their health care costs.

or

HMO/POS PLAN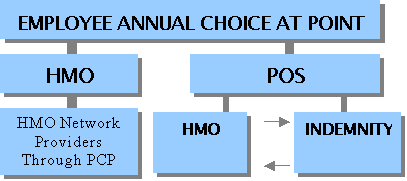 If you select the HMO/POS plan, your employees and their eligible dependents have a choice of the HMO or Point-of-Service plan during an annual enrollment period.

Whether you purchase the HMO/PPO option or the HMO/POS option for your company, you'll be providing your employees with the flexibility they want, while taking advantage of the increased cost controls these plans provide.


Other Employee Benefit Products Offered: 
Individual and Group Health Insurance products
 
Executive Compensation
 
Disability Income Insurance
 
Business Planning For:

Key Executive Coverage
 
Business Overhead Expense
 
Business Continuation Funding
 
Buy-Sell Funding
 
Split Dollar
 
Executive Bonus Plans funded with Life Insurance
 
Deferred Compensation
 
Voluntary Payroll Deduction Plans
 
Funding for Salary Continuation Plans
 
Funding for Qualified Plans (SEP's, TSA's, Keough's, 401(k)'s Pensions)
 
Long Term Disability
 to top
---

Need a little help in deciding which products would be right for you and your family? Please do not hesitate to contact us for additional information. We can help you analyze your needs and recommend appropriate products.


to top